Lady Care is a brand of quality sanitary products from Sankin Nigeria Ltd. The company was incorporated in 2000 for the production and marketing of sanitary pads with a view of adding an affordable, soothing and customer friendly face to menstrual health in womanhood.  Lady Care is focused on improving its knowledge in menstrual health to serve the target market.
We noticed the influx of foreign sanitary pads and decided to build a brand that improves local content and indigenous growth. Sanitary products became our premium choice due to low variety in quality and features in the sanitary pad market. Also, it was noticed that younger girls lacked the reach of most sanitary pad brands in the market, as such, Lady Care brought succor to this great need.
Our first product, Lady Care Regular was launched in 2001. This was followed by Lady Care Regular with Wings in 2003 when our researchers discovered that ladies preferred winged pads.  A new addition to our product range is the Lady Care Premium.
Lady Care currently has two products:
Lady Care Regular with wings (Yellow Pack)
Lady Care Premium (Green Pack)
Sankin Industries is a proud member of the Manufacturer's Association of Nigeria (MAN), under the Sanitary towels, Napkins and Baby Diapers Sub-Sectorial Group. At Sankin Nigeria Ltd, we ensure high quality standards in the manufacture of our products. All our production facilities, materials, producing procedure and product lines have been thoroughly tested and approved by NAFDAC (National Agency for Food and Drug Administration and Control).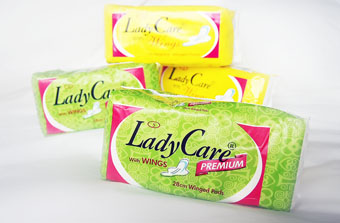 Our sanitary pads are manufactured under high standards to maintain convenience and hygiene among our users. Our products are also:
342
In Lady Care, we have steps to our success destination, which has been carefully ingrained in our manner of operation and strengthens our purpose as a health conscious company.
To take care of today's woman.
To provide quality, healthy and convenient sanitary towel
To ensure customer satisfaction through periodical innovation
Our vision encapsulates our reason for existence. It is our brand promise that coordinates the various section of our service that shows our business goal.
To achieve unparalleled success in the provision of quality sanitary pads
To build a growth oriented company that imparts on products, staff and the world.
To ensure healthy living